If you are considering a fishing adventure on North Carolina's famous Outer Banks, be sure to check out the charter vessel "Godspeed".  The Godspeed is a cold molded, 57' custom fishing machine.  She was built in 2004 just 50 miles southwest her home port, Hatteras Island.  When owner/operator Captain David Wilson joined Captain Leonard Rigsbee to undertake the project of building the "Godspeed", he had one thing in mind.  Building a big, comfortable rig that would be practical and functional.  You won't feel cramped fishing out of her 16' x 16' cockpit, and if you need room to stretch out, you will find her spacious, air conditioned cabin area more than suitable.  Her arsenal of tackle includes Tiagra 30# - 130# reels, mounted on Fenwick rods, as well as TLD 20s and 25s, which are used often on white marlin and sailfish, and Avet LXs for vertical jigging.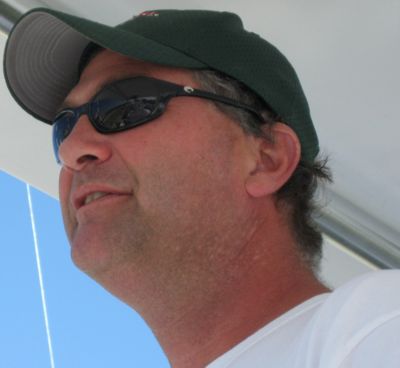 Capt. David Wilson of the Godspeed
Captain David Wilson has fished the waters off the coast of North Carolina full time since the early 80s when he worked as first mate for his father.  He became a licensed captain in 1986, and climbed up on the bridge full time in 1989.  Since then he has owned three charter vessels and likes to think of the latest "Godspeed" as his last one.  He lives on Hatteras Island year round with his wife and two kids.  You will find David to be knowledgeable and diligent in satisfying his customers, as well as courteous and polite to all on board.  You will also be pleased with the professionalism of his mate, Justin, who is also a licensed captain, and has fished the gulfstream waters for over ten years.
Geographically, Hatteras Inlet is the closest shot to the gulfstream on the east coast, north of Florida.  These waters are known for their productivity in a number of pelagic species.  Blue marlin, white marlin, and sailfish are at the top of the list of species sought off the coast of North Carolina in the summer months, but many people travel there for a shot at some great wahoo, and dolphin (mahi) fishing as well.  Spring and fall yield impressive catches of yellowfin tuna and smoker king mackerel, while the winter months usher in some of the best bluefin and blackfin tuna fishing anywhere in the world.  Anglers travel from around the globe to experience North Carolina's "giants".  Check with Captain David about what time of year would be most productive for the species you are after.
Contact Capt. David and Godspeed Charters:
CAPT. DAVID WILSON
252-995-3311
HERE IS SOME GREAT JIGGING AND POPPING FOOTAGE ABOARD THE GODSPEED!