The Northern Lights is a 37 foot classic Merritt, with a rich history of world record catches and personal bests. It is perhaps the finest rigged 37 Merritt out there and certainly the most well maintained. The Northern Lights has been fishing the Kona waters since the late 80's and has been a household name ever since. Its record speaks for itself - 2 IGFA records, 1115 lb. Pacific Blue Marlin in 2000 and countless Blue Marlin over 750 lb. and Yellowfin Tuna over 200 lb. The Northern Lights is fully rigged by Melton International Tackle, featuring the finest gear on the market today; Ian Miller 130 lb. Trolling Rods, Accurate Platinum TwinDrag 130 Reels, an impressive arsenal of handmade trolling lures. No shortcuts are taken by the crew of the Northern Lights when it comes to preparation and maintenance of the boat or gear.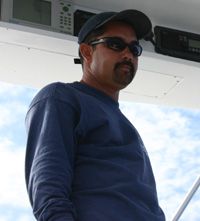 Capt. Kevin Nakamaru of the Northern Lights in Kona, Hawaii
Your Captain, Kevin Nakamaru was born and raised in Kona, Hawaii where his pasion all of his life was fishing. He was hooked at an early age when his mom caught her first marlin when he was three years old. With his parents and three sisters he fished for tuna and marlin in their family boat in the calm waters off Kona. He caught his first marlin when he was nine and his first big tuna when he was ten. His mom and dad were active members of trolling clubs including the Hawaii Big Game Fishing Club and the IGFA. All the fishing they did was by the rules. Even following the tournament rules, Kevin's parents' fishing resulted in a number of records for Kevin's mom.In 1975 she caught a 565 pound Blue Marlin on fifty pound test and a 231 pound yellowfin tuna on eighty. In 1976 she broke her own tuna record with a 250 pounder. It was during those years that Kevin's foundation for fishing was being set for the fishing to come.
Since then, Kevin has continued the success that was enjoyed by his family. After fishing Madeira, Portugal for several seasons, Kevin returned home to Kona to pursue a childhood dream of skippering a Merritt. When the Northern Lights came up for sale, Kevin and Terry Fohey bought it. It was on the Northern Lights that Kevin's most significant catch was made. He was the first angler, captain or crew to catch three thousand-pound billfish of different species by landing an 1,115 Pacific Blue on April 6,2000. This was the Triple Crown of Granders when added to the grander black marlins he caught in Australia and Atlantic blue marlins caught in Madeira. In the summer of 2005 an important record was made onboard Northern Lights. With Kevin as Captain they caught and released eight blue marlin on one day beating the previous Kona record of six in one day. Two days later they tied their eight-catch record again but lost the ninth at the boat. If you're looking to catch your first Pacific Blue Marlin or perhaps a giant Ahi, Captain Kevin Nakamaru and the Northern Lights are a great choice.
Tracy Epstein wiring a Pacific Blue Marlin
First Mate Tracy Epstein is no stranger to the Kona, Hawaii fishing scene, it's in his blood.Father Steve "Stymie" Epstein is well known as being the First Mate on the Marlin Magic that wired the illustrious 1400 lb. Pacific Blue Marlin in 1990 and now skippers the Huntress. Tracy has quickly made a name for himself as one of the finest wiremen on the scene with quick hands and attention to clients' needs.
Northern Lights Sportfishing was recently featured in a nationwide commercial for Hawaiian Airlines! Click below to view the commercial. It will give you an idea of what chartering the Northern Lights is all about and how the client experience is very important to the crew.