Madeira Season 2015, Day 1
The fish have mostly been concentrated to the western point of the island. After a short run up to the wind line we set out our teasers. We'll be bait and switching for the next 5 days chasing the mens 30lb record. The previous record held by Stewart Campbell stands at 875, so we decided if the fish would not be a potential world record we'd pitch 130lb test instead. Our first bite came around 11 on our short bridge teaser a green
Koya Poi dog
. The fish looked in the 600lb class so we quickly switched her out on our 130 lure pitch. After a really lame bite we chased the fish down sea for 5 minutes only to have it finally come up jumping and throw the hook. Another few hours went by and we again raised a fish close to the same size on the same Koya lure. This fish made a half hearted attempt on the pitch as well and took a few yards of line before coming off. At the same time a slightly better blue came up on the right long a
Koya 861
also in green. This fish looked around 700 and followed us for what felt like 5 minutes. She wouldn't tease in close enough to the pitch and eventually lost interest. At it again tomorrow.
Day 1 of 2015 Season.
Day 2 of 2015 Season.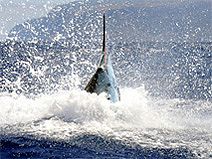 Day 2 of 2015 Season. Coming right up!
Madeira Season 2015, Day 2 up on the west end.
Switched a 550 on 130lb. Fish made a good bite on the pitch lure and took out a 100 yards of line. We caught up to her pretty quick just swimming down sea. Ian got the leader in under 5 minutes but after a few pulls she took off on him. She never got more then 50 yards from the boat. Ian had to work for it but he was finally able to wrap her off on the side. We missed another blue that afternoon that looked nicer grade but never came back for the tease. Try again tomorrow.
Madeira Season 2015, Day 4.
We started the small Tournament yesterday with the top boat catching a blue and a white. Again fishing in the rough we switched a real aggressive 600 on 30lb test. She chased the teaser to the back of the transom before wheeling around and grabbing the pitch. We turned and chased a good 10 times before catching up to her going down sea. Mat was able to get a few good jumps on leader well within gaff range if she would have been big enough. We raised another two blues that made terrible switch bites and managed to finish third in the tournament.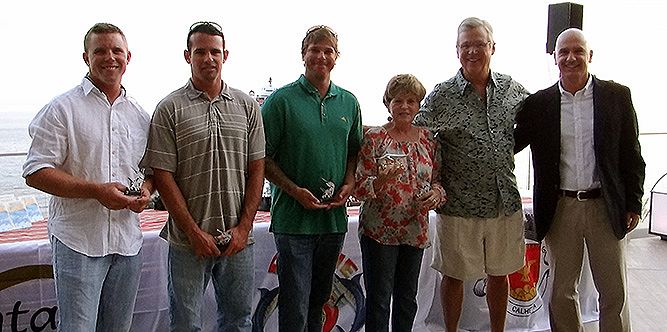 Madeira Blue Marlin – VII Trophy Antonio Ribeiro – 3rd place.
All smiling faces.