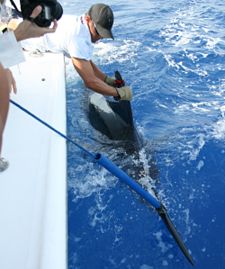 The crew of the Grander tries desperately to revive this beautiful fish.
After catching a fish at the end of the day yesterday, I felt pretty good about going back to the same area hoping for another bite or two. The day dragged on with no action for us but I had heard of one fish caught and I had witnessed another one caught so hopes began to rise.
We hadn't started the day until 11 am so our plan was to stay a little later, maybe till 7 pm. The bait was on the 100 fathom edge and I continued practicing my M's and W's on the plotter when my mate, Tracy, perked up like a pointer and spotted a big spot about to eat the
XL Polu Kai Tube
on the left short. She didn't eat as you would want but she was persistent none the less. After popping the lure out of the tag line and chasing it back to the boat, she ate and came unglued really quick. We thought that might be the last we'd see of her but she swam back into the spread after the right long where the
Polu Kai Lil' Stubby
held up residence. On her second attempt she was hooked and off and jumping. We turned and chased twice to get the line back on the reel only to have it stripped a third time back to the
dacron
. We stayed up and down on the fish till the end. the whole fight only lasted less than an hour but somewhere in the middle she had either become tailwrapped, which happens, or just ran out of juice and died.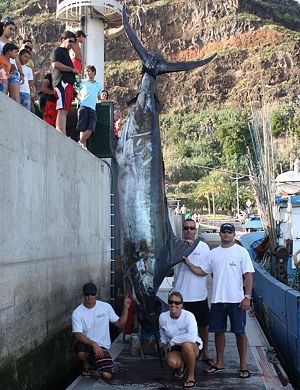 Angler and Grander crew next to the 820 lb. blue.
After we planed her to the surface she came to the boat head first, which was a good sign, but she was completely out of gas. Jess got the snooter on the fish and we swam her alongside for 30 minutes to no avail. Instead of turning her into a mud dart we decided to bring her back to the dock and hang her up on the scales. She topped out at 820 lbs with a 131 inch short measurement, from the lower jaw to the fork of the tail, and a 66 inch girth. Everyone was a little sad to see her die but we ended up doing the right thing by bringing her in and giving the meat to the local orphanage and rest home. The bite was ferocious and the fight was one to remember and all were happy in the end. Good job to the angler and my crew. That makes 23 blue marlin caught for the season to date.