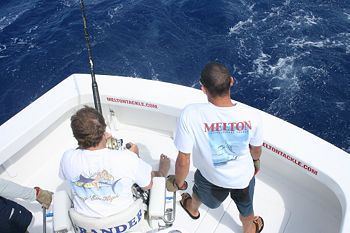 Melton Tackle Customer Chip Wagner puts the wood to an estimated 650 lb. Madeiran Blue Marlin
Today was a good day to be in Madeira. Not so much for the weather, but for the fishingindeed. This morning we woke up to unseasonably windy conditions for June in Madeira. Although the wind and seas were up, we still went looking for a blue due to the recent abundance of activity in that department for the fleet. In the last 4 days there have been on the average, 8 fish seen for the fleet. Now 8 may not sound like many, but when the average size is 700 lbs. it's worth going every day you can. Leaving the harbor the wind was blowing 15 to 20 kts from the NW so off to the east we went. Setting out in 100 fathoms we realized that 4 lines were all we could troll for fear of tangles on the turns due to the windy conditions. After a few hours of trolling the wind had increased but already there had been one fish caught and another lost so things weren't looking so bad, a few tacks later on the way down sea we got our shot.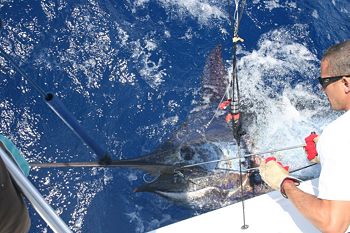 Tracy Epstein takes the hook out of this beautiful Madeiran Blue Marlin
The fish showed first on the left teaser, a
Marlin Magic XXL Ruckus
, which it tried to devour on several attempts. Luckily I was able to pull the teaser away, which prompted the fish to turn around and eat the
Marlin Magic Super Dog
on the left short. The bite was ferocious from the inside out after which the fish proceeded to jump about 30 times throughout the spread and alongside the boat as we turned to chase. After the immediate air show, the fish dove deep and made us work for the rest of the fight. After 45 minutes we were able to get the fish alongside where we got some good pics, removed the hooks and sent her on her way with high fives all around. A great job was done by my crew and angler to make the best of some adverse fishing conditions. Right now there seems to be a good sign of fish here that are mostly in the 500 to 700 lb. range. The fish for us today measured out to be around 650 lbs and will be bigger next time around.
Bom dia and good fishing,
Capt. Jonboy Kelmer.