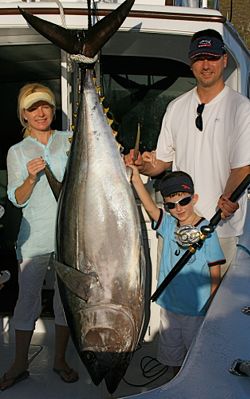 230 lb. Bigeye Tuna
After some days off we got back out today with big hopes to catch something whether it be a blue marlin or maybe a tuna. We started in front of the marina as we always do and worked to the west. There had been some blue marlin bites to the east in the last couple days but after hearing about Frothy on the Pesca Grossa missing a marlin to the west a day ago I decided to go that way. No one has really fished out there, mainly because the wind and current have made it tough to fish, but today it wasn't too awful bad.
On our way there we had a blind stike out of something that we could only assume was a tuna due to the fact that it took no drag and never came back for a second try. After a couple circles we continued fishing west with hopes of some more action. Once we got out to the Point it looked really good as there were hundreds of birds flying low to the water. After a couple passes we had a fish pile on the small Polu Kai Bullet we pull on the stinger. The small
Shimano Talica 25II Reel
was screaming off line as we cleared the other lines and began to back up. It was quickly evident that it was a tuna and we commenced to back up after it. After a 30 minute fight we got the fish to the boat only to have it throw the hook on the leader. We were all disappointed but hopes were high for another bite as the birds were still up and I was marking plenty of mackerel on the sounder.
30 minutes later I was making a pass over a good mark of mackerel and again the stinger bait went off with another tuna and there we were again in a battle on the stand up rig. After 20 minutes Bo got the leader and in short order we had the fish gaffed and ready to come aboard. The fish ended up weighing 230 lbs. Anthony did a great job on both fights and although we didn't get a marlin bite we ended up having a great day.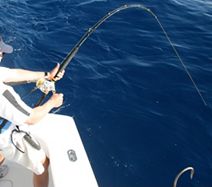 Anthony works the tuna close to the boat.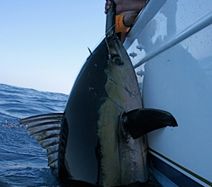 Up and over.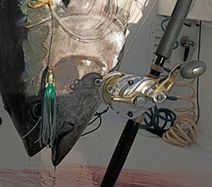 Tackle used.