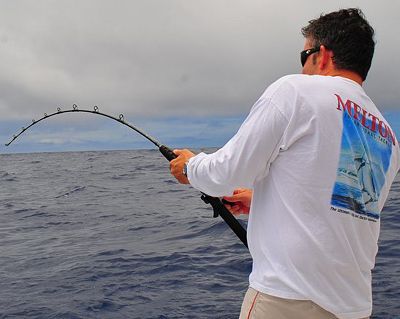 Tracy Melton fights a 200+ Bigeye Tuna on a Shimano Trevala 58XH Jigging Rod and a Torium 20 Reel spooled with 65 lb. Power Pro Spectra
The weather was complete trash yesterday. Who says the water in Madeira is always flat? Yesterday was probably the worst day we've seen yet. We wandered out of the harbor for a few hours before calling it quits, theres way too many nice days to force it. We knew the forecast was improving for today so we set our sights on a 10 am departure. It rained all morning so we ate pizza at our favorite restaurant just up from the boat. Two large pizzas later we headed out of the harbor around noon. The seas had diminished quite a bit and the wind had dropped to almost nothing.
We had heard of a few spearfish being caught so Jonboy had this bright idea to put a little Polu Kai bullet on a
20lb Shimano Torium
jigging outfit in hopes of something small. Not 30 minutes later we spotted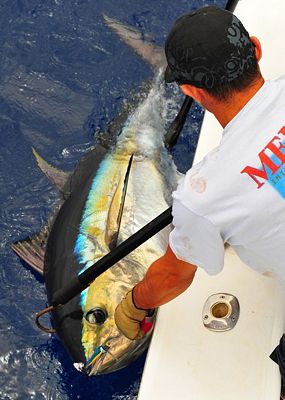 Finally, the Bigeye Tuna is at gaff after tussling with it on a Shimano Trevala Rod. This fish fell for a Polu Kai Rocketman.
some birds swarming and white water erupting. As we approached the area we quickly identified the splashes as big eye tunas and before we knew it our small spearfish outfit was ripping line. As we slowed the boat another tuna exploded on the
Polu Kai Instigator
on the short rigger. We now had a double big eye going. Tracy's dad Bob took the 130 Shimano to the chair and wound his fish to the boat in under five minutes. We hustled to get ready and made quick work of the 215 pound big eye. With one fish in the boat we then focused on Tracy Melton who was getting smoked on his 20lb outfit which was luckily spooled up with 60lb spectra. 45 minutes later and three anglers used up, the leader finally popped up. I had gotten on the wheel to let Jonboy take a go a go on the rod. Jonboy handed Tracy the reel and I quickly got off the bridge to grab the leader. The fish was hooked right in the center of the nose, probably the worst place to hook a tuna. With only 280 lb. florocarbon leader I had the fish almost within gaff range before it went nuts and actually tried to jump out of the water, then took off on a balistic run straight down, forcing me to either let go or break it off, I opted to let it go. It took us 15 more minutes and a couple more anglers including myself to get her back up. We put Melton on the wheel and Jonboy reefed the tuna to leader for the second time. This time there was no way I was going to let go, we were either going to get it or break it off. She gave us a hard time but Jonboy managed to get a gaff in her and finally end the battle. Everyone was completely exhausted so we started our way towards home.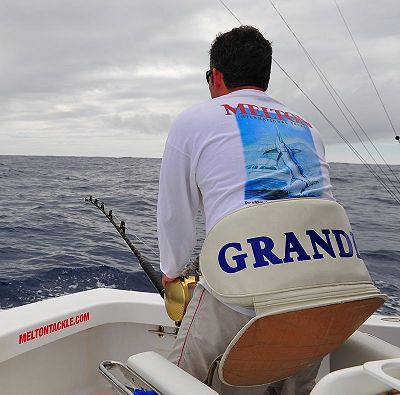 Tracy Melton puts the screws to an estimated 650 lb. Blue Marlin
We set the pattern back up and relaxed for the time being. Making our final approach to the marina we hear yelling coming from the salon. We're pulling one of the new
Towcams
in front of our long corner and Tracy happened to be watching the tv at the time. He's yelling there's a fish on the long corner but nothing was visible from the surface, then all of a sudden there she is. She had switched to the short rigger
Polu Kai Instigator
which had just caught one of our big eyes.
A couple of misses and she faded back to the long rigger
Polu Kai tube
. She made one quick move on the lure and we were on. With Tracy in the chair and Jonboy on the wheel with had the 650 plus blue to the boat in under 7 minutes. We got her settled down along the side took some pictures and sent her on her way.
What a day, two 200 plus pound big eye tunas and a 650 Blue.
Tracy Epstein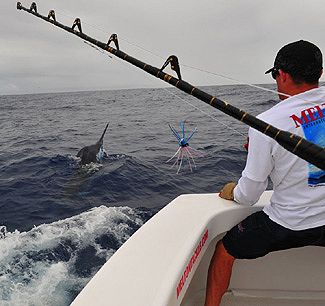 Tracy Epstein takes wraps on another Blue Marlin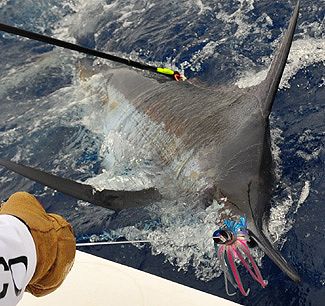 The Blue is brought boatside
Beautiful fish photographed, tagged and released to fight another day.