Bon dia or good day as they say in Madeira, Jonboy Kelmer captian of the Grander writing in for the day. Today was our first full day we've put in while here in Madeira. Four close friends of Tracy Melton flew in from Italy to join us for a few days of fishing.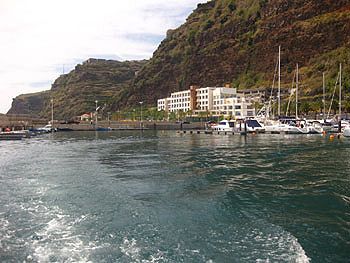 The Grander pulls out of the Calheta Marina in Madeira
We headed out of Calheta Marina at 9:30 am for a solid day of trolling. We hooked into a Dorado or dolphinfish early in the morning. After boating the Dorado we continued trolling down to an area called Cabo Girao. While on our way there, we overheard some chatter on the radio about a boat being hooked to a fish. The Katherine B a boat out of Funchal was fighting what would be the first Madeirian blue caught this year. We could see them spining cirles out in front of us as we approached the cliffs of Cabo Girao. They would eventually release a fish in the 500 pound range. We continued to troll the area along with a few other boats and within an hour the same boat was hooked up again. This time they would release another blue estimated close to 800 pounds. With the two fish caught in the area we spent the rest of the day pounding around hoping to raise a fish.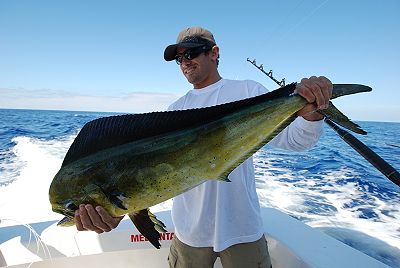 Tracy Epstein displays a Madeiran Dorado
We managed to catch one last dorado before we called it a day and headed to the swallows to try our luck at bottom fishing. We spent a good hour or so but we weren't able to conjur up any luck and hook into one of those elusive Pargos. We'll try our luck again tomorrow, hopefully the blues will continue to bite.
Sincerely,
Capt. Jonboy Kelmer and the Melton Madeira Crew