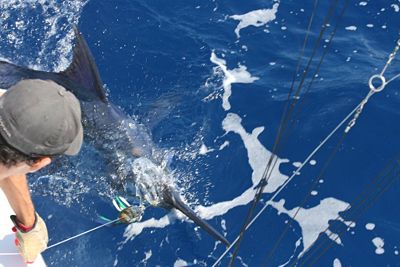 Tracy Epstein wires the first Blue of the year on the Grander, an estimated 300 lb. fish
Myself, Tracy and Jessica took the Grander out for a day of fishing today. The weather has been funky for the past 3 or 4 days with the wind coming out of the west which makes trolling very uncomfortable. The wind backed out a bit so we gave it a go this morning.
Around noon we heard of a few fish being seen but nothing caught yet. With the day passing pretty uneventfully we headed our way back up to Calheta. I took a swing out around a thousand fathoms and trolled our way back up the line.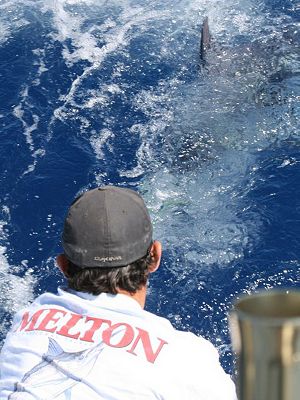 Released to fight another day
Almost directly offshore of the house we're staying in, we raised a blue on our Long corner Polukai Instigator. Tracy spotted the blue swimming up the middle of the prop wash towards the lure. Before both him and Jess could even make it to the deck the blue had already engulfed the lure and was on its way out of the pattern. Jess Grabbed the 130 Shimano out of the holder and took it to the chair while Tracy started clearing the lures. The Blue did a series of maybe 20 jumps staying right on the surface letting us turn
around on her and get back most of the line in just a few minutes. Within 10 mintues Tracy had the leader in hand. The blue did a few switch backs and some last head shacks to get the hooks free but Tracy was able to bring her up the port side and settle her down. We took a few pictures and released the estimated 300 pound blue. A smaller fish for what Madeira usually has to offer but still the first blue of the season. There were 5 other fish seen today with ours and one other being caught. Depending on the weather we might go tomorrow and give it another shot.
Capt. Jonboy Kelmer and the Melton Madeira Crew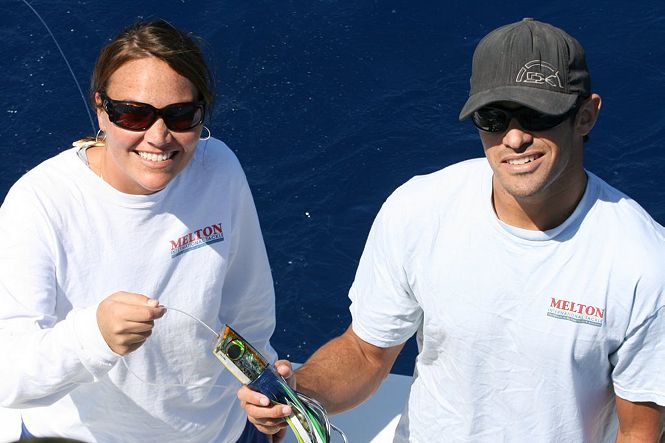 Jessica Kelmer and Tracy Epstein display the Polukai Large Instigator