Josie did a great job pulling the estimated 60-70 lb. white marlin to the boat.
Today, August 4th, involved us just going to fish an afternoon with Keith and Josie before they headed back to the states on the 5th. Sambo Peters, Release Marine, and his buddy Clayton Smith headed out this morning after having a great couple days of fishing. We had the highest of hopes after the day we had yesterday so i headed back to the same locale to find the bait and maybe the fish.
Things didn't look quite as good as the day before and the fishing told the tale. I heard of only 2 fish seen today and a couple tuna sightings but none of them involved us. We only fished 5 hrs and on our final approach to the harbor, there was a quick zip on my bridge rod with the
Polu Kai Bullet
on it. I cranked it up a couple turns and in flagged what could have been a white marlin or a large spearfish. After letting it hook itself, which seems to work best for me, it went off jumping and Tracy snapped some quick pics. We cleared all lines and focused on catching this fish for Josie.

Estimated 60-70 lb. white marlin jumping.
The significance of catching this one meant a little more than usual for the fact that her husband, Keith had caught 2 blues on their trip and she had already caught a hatchet marlin two days before. I thought it was kind of cool that as a couple they had the chance to catch 3 different species of billfish while here with us. Jess gloved up and away we went after the 50 - 60 lb white marlin. the fight got down and dirty for a bit and then Jess was able to get a couple wraps and work here way down the leader a bit only to have the hook pull and away the fish swam.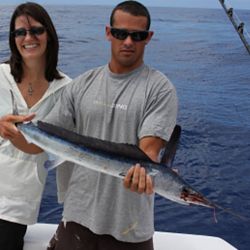 Juvenile hatchet marlin that was donated to science.
High fives flew about and in we went to enjoy a cold Coral or Zarco, depending on your taste buds. The hatchet marlin Josie caught 2 days before couldn't have weighed 5 lbs but seeing as it was hooked in the eye and knowing that the Marine Science Institute in Funchal needed a specimen for their studies, we brought the fish in and donated it to science.
The last few days were eventful and enjoyed greatly by all on board. Let's hope Madeira stays alive and we keep having good reports to come!