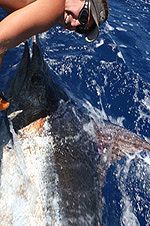 400lb. Blue Marlin brought alongside the Grander
We've been in La Gomera for a week now getting the boat dialed in and fishing a handful of days. The fishing conditions here mirror Madeira in many ways. Where we are fishing is nearly slick calm and within a mile or so of land, which is nice. This place is known for having pretty good numbers of blue marlin with sizes ranging from small all the way to large fish at any given time. The first day we were able to go fishing we snuck out there around 11 in the morning and got lucky to get a big crash bite on the right short rigger where our large green-headed
Polu Kai Instigator
was holding down shop. After an initial run and some jumps the fish settled down and we were able to get her up to the boat in about 20 minutes. The blue was over 400 lbs by a bit and we were thankful to have her.
After setting back out we raised and hooked a white marlin on a small jet out the back and finished up the day with no other bites.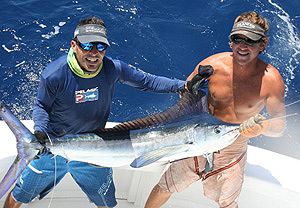 White Marlin
Day two was just as eventful with us raising 2 smaller blues but unfortunately we were unable to make a connection with either one. Later on we saw the bigeye tunas and gave chase, to no avail, so we paddled home empty handed. We took a day off and went back after them with an early start, 9 am, and put ourselves in pretty good position early on. This time it was just myself and Tim, so my crew became my angler as well. The first fish we raised came up on the right long then faded over to the left and inhaled the small
Polu Kai Instigator
and with a solid hook up we were on again. This fish made a long initial run as Tim cleared the other rigger but we were able to get back on her pretty quickly. The fish was hooked well in the upper jaw and Tim was able to get some good pulls on her with some good lunges mixed in. I'd say she was over 600 lbs and plenty feisty to boot.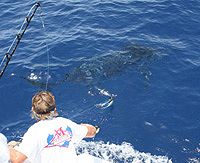 600lb. feisty Marlin
After getting shed of that one we set back out and continued to troll the same area where there were plenty of skipjacks busting under the birds. Only a few moments later we raised another fish, smaller this time, on the left long and after some coaxing by Tim the fish finally ate the same
Polu Kai Instigator
and again we were hooked up. In short order, Tim cranked in the fish and grabbed the leader to complete our second catch of the day.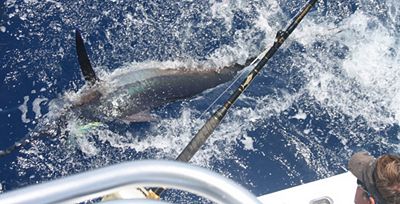 Second catch of the day!
So I have to say that the fishing here is exciting and fulfilling if catching blue marlins is your thing. There are many good local charter operations here so come check-out La Gomera in the Canary Islands this summer for a great fishing experience. Capt. Jonboy