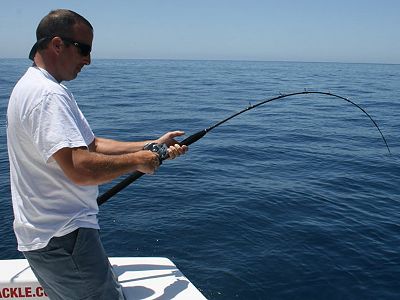 Captain Jonboy Kelmer cranks up a Pargo
We decided to try some bottom fishing this morning before heading to the deep to marlin fish. We've ben told so many different stories about the Pargo fishing, it's hard to really pinpoint what and where to go. The first depth we were told to fish in was 130 meters, which translates to about 360 feet. We've made a few attempts at these depths in a few different areas with no luck. We've been using single hook
200g Shimano Butterfly Jigs
to get to the bottom. We're using a
shimano Trevala Jigging Rod
with a
Shimano Torium 20 Reel
. After no luck the first few days we decided to use a different technique and follow the 150 foot ledge, looking for schools of sardines.
We weren't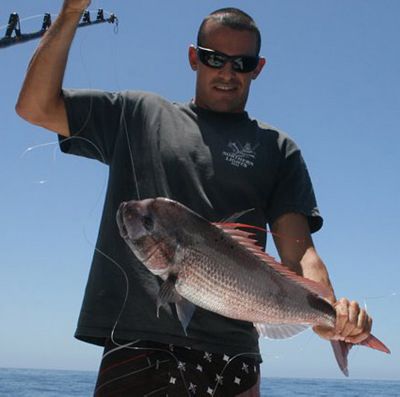 Tracy Epstein displays a Pargo
planning on spending all day jigging but within a quarter of a mile from the harbor entrance we came across a massive school of sardines. We made a few drops into the school and within mintues Tracy was hooked up. Unfortunately, his fish pulled free but soon after Jessica was hooked up. She proceeded to break our losing streak and catch our first pargo of the year. We kept making drifts over the sardines and the bite continued. We opted to just jig the rest of the day since the bite was on. At the end of the day we landed 11 Pargos the biggest being close to 20 pounds. Thanks to the boys in Meltons shop for hooking us up with all the right stuff. Hopefully there will be more Pargo updates to come as they're fun to catch!
Bon dia,
Captain Jonboy Kelmer and the Melton Madeira Crew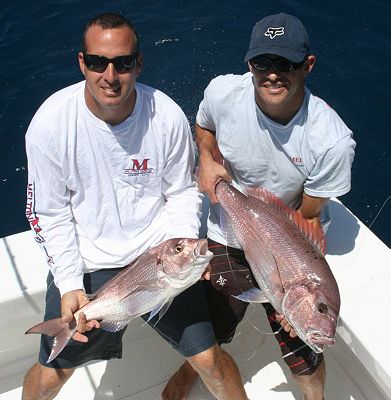 Capt. Capt. Jonboy Kelmer and Tracy show the Pargos close-up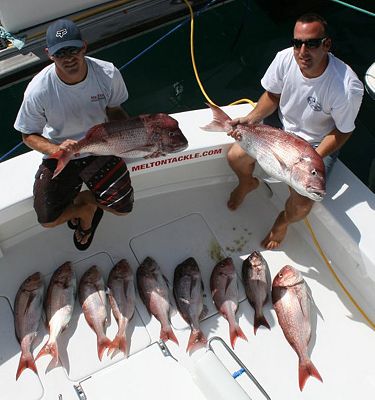 Jonboy and Tracy display the day's catch, 11 Pargos which will feed the Melton Grander crew well