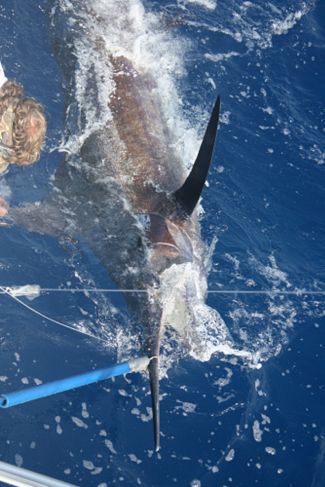 Nice Blue Marlin on the snooter.
Today started out with a bang and tapered off from there. Out to the west has been looking really good as of late and just yesterday the Tightline boat caught 2 fish right next to us. We had hoped to get a bite sometime then but it never happened for us. So today our fingers were crossed that it was our turn up to bat.
On our first pass off the ledge I marked a fair bit of bait and just then I heard Bo yelling from the cockpit about the right short rigger. I turned around to see a fish around 600 lbs trying its very best to eat the Aloha Beauty. After pulling that lure down and missing it several times, the fish showed up behind the medium Polu Kai Instigator on the right long rigger. After just two attempts, the second of which pulled some line off the reel, she disappeared for what felt like hours. Just then there was an explosion on the left long rigger where the Marlin Magic Ruckus had taken up residence for the day, a proper bite and we were down and tight.
The lines were cleared and we backed after the fish getting line back on the reel slowly at first. At one point I turned and chased only to see the fish greyhounding back at me so needless to say she was close to the boat the whole fight. We resumed backing after the line and Bo had the leader in just under 10 minutes. As Bo held onto the leader I had the Grander boat spinning like a top doing 2 complete 360's before the fish settled down enough to get her alongside. We got the snooter on her and removed the hook in short order. The fish still had plenty of fight left in her at that point so we let her go asap so she could recover and live to fight another day.
The rest of the day consisted of fishing nearly the same area and watching the bigeye tunas come up busting on the surface several times but no other encounters were to be had. It was a great fish and we were glad to have her.