Greetings from Madiera, Portugal. Capt. Jonboy here with the latest Grander Update. The
Madeira Marlin
Grander boat is in Madeira and getting ready for what has the potential to be a great season. The crew is getting geared up as we speak for some big fish action. First crew Tracy Epstein, from Hawaii, is busy skirting some of the new
Polu Kai Instigators
and
Tubulations
as well as
Marlin Magic Super Dogs
,
Ruckus
and
Medium Tubes
. As second crew, Jessica Kelmer is ready to catch a quick pic of the action as well as back Tracy up on the deck with clearing rods and throwing the snooter on these Madeiran marlins.
Madeira is notorious for calm waters and big blue marlins so consequently we like to pull very light lures that leave a big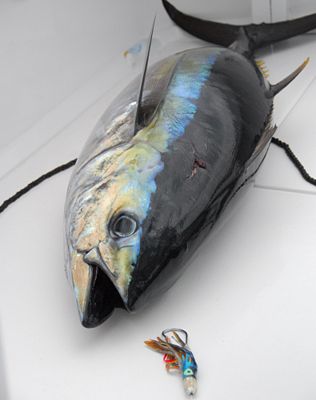 Madeira Big Eye Tuna
footprint. After you see the first 700 lber pounce on one of these lures like a dog on a ham biscuit, you'll understand why we pull what we pull. We also have a huge assortment of
Polu Kai Rocketman Jets
and
Melton Cherry Jets
on board just in case the Big Eye Tunas show their faces. On occasion over here, the Tunas will come to the surface chasing the small mackeral that are so very plentiful. In that instance, if we're close enough to them, we will switch over to a spread of jets and charge in their general direction hoping to get to them before they sound. If we get lucky and the timing is right, then look out longriggers. It's not uncommon to hook 2 or 3 of these 150 to 250 lb. tunas on each successive pass.
We've got a great team this season and a pure fishing machine under our feet. The team at Melton Tackle does a terrific job making sure that we have to best possible support with the best equipment available. We're all hoping for big fish and big action so stay tuned for up to date reports.