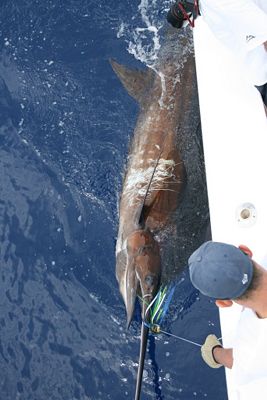 A tired Blue Marlin is brought alongside the Grander
Yesterday the fishing was a little bit slow for us though some boats still managed to catch some fish. Today was a different story and we hooked Jessica into another nice blue. We were fishing the same area that we've been going to the last few days and around 12 noon a blue showed up behind our long corner
XL Polu Kai tube
. After four attempts to eat the lure she swithed over to the short bait an
XL Polu Kai Instigator
which she finally managed to eat. After a blistering first run, Jonboy had chased her down in under 10 minutes to within reach of the double. We noticed the leader was under her belly again and in an attempt to roll her out of the wraps we tighted the drag. After a few minutes of tug of war the blue started to pull her way down. After finally stopping the fish with over 50 pounds of drag we started to plane her from the deep. With the drag all the way at sunset we were finally able to get the fish to the surface, unfortunately by that time she was completly exhausted from being pulled backwards. We towed her along side for a good ten mintues trying to get some life back into her. Getting a tail wrapped fish is just one of those things that happens. With a little bit of life revived back in her we sent her on her way figuring she has a better chance out there than at the dock.
A few hours later we were able to raise another fish this time on the
Large Polu Kai Instigator
on the short rigger. The blue paddled up from the inside of the pattern and took one good swipe at the lure and then swam off on her way never even knocking it out of the clip. Disgusted to say the least about the half hearted attempt we pounded the area hoping to raise her again. This fish looked to be quite a bit bigger than the ones we'd been seeing, best guess would be in the 700 plus range.
We ended our day at our pargo spot and caught a few nice fish for dinner, you gotta love Madeira.
Bon dia, Tracy Epstein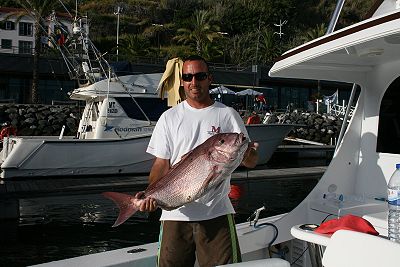 Dinner! Captain Jonboy Kelmer shows off a typical Madeiran Pargo