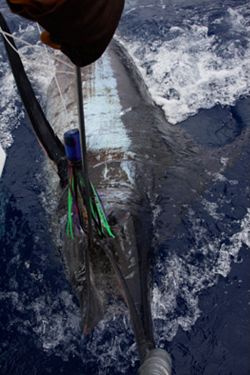 Today's fish, an estimated 550 lb. Blue Marlin alongside the Grander
Today was a good day on the Grander. We have been fishing with Bo's wife, Lisa, for the last couple days and were able to catch her first atlantic blue marlin. The fish was probably about 550 lbs.
Our first bite of the day was a fish a 700 pounder on the left short rigger, large Polu Kai Instigator, that pulled off after just a minute in the chair. As we were clearing that lure and turning around on the spot, another fish showed up on the right long rigger which happened to be a medium Polu Kai Instigator. This fish tried the lure a couple times and eventually got hooked. We already had on lure cleared and started backing after the fish as Bo cleared the rest of the lines. We were able to get to the fish quickly and had a terrific jumping show at the back of the boat but due to the fact that there were only 3 of us onboard we couldn't get any pics. Bo grabbed the leader several times and after just 20 minutes we had it alongside to get the hooks out and let her go.
Since fishing had been so slow around here we felt ridiculously lucky to see what we saw and continued to troll for several hours just for fun. After an hour and a half, while eating chicken sandwiches, there was an explosion on the right short rigger Aloha Lure Smash Bait. The fish didn't pull any line and immediately jumped on the left shortrigger, large Polu Kai Instigator, pulled off 30 yards of line and came off. Just after that the fish showed up behind the shotgun bait, a small rod I fish on the bridge, and I was able to tease it back into the spread. The fish, maybe 500 lbs, piled back onto the left shortrigger and pulled the hook in short order.
Anyhow, it was an unreal day and to get three bites I couldn't be happier. Lisa Jenyns did a great in the chair while her hubby did a great job on the leader. There were a couple other fish caught in the fleet today, one fish was around 700 and the other was around 900. Keep your fingers crossed that the bite keeps improving because you know we are.
Lisa Jeyns with her first Atlantic Blue Marlin