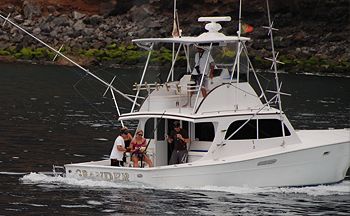 An 800 lb. class takes the Grander into water as shallow as 30 ft. Notice the shoreline just off in the distance.
Overall the fishing this month in Madeira has been on the slow side. After a good sign of fish in late May there was a current change and some cooler green water moved in which took a week or so to get pushed out.
On the 17th of June we caught our first fish which was 800 lbs and before that there were only a couple fish caught for the fleet. After that day there were a couple caught every other day or so.
There was a pretty good bigeye tuna bite for a couple weeks mid month where some nice fish up to 300 lbs were caught. As the end of the month approached we were able to scratch out a second blue about 350 lbs and other boats were catching their second and third fish of the season.
All of the conditions look good for fish to be here but we're all waiting for the big rush to show up. In just the last week of the month there were couple days where there was 4 or 5 fish caught in the fleet.
Enjoy the few pics I've got so far and I hope to have more coming next month.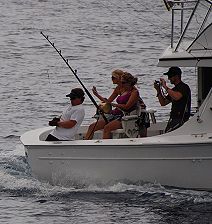 The Grander backs down while wireman extraordinaire Bo Jeyns takes wraps on an 800 lb. class Blue Marlin.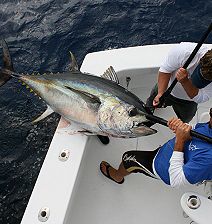 Bo Jeyns and Capt. Jonboy Kelmer bring a 250 lb. Bigeye Tuna over the rail of the Grander.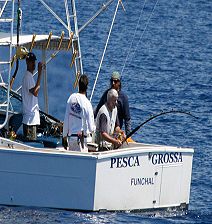 An angler battles a feisty Bigeye Tuna aboard the Pesca Grossa, captained by Frothy De Silva