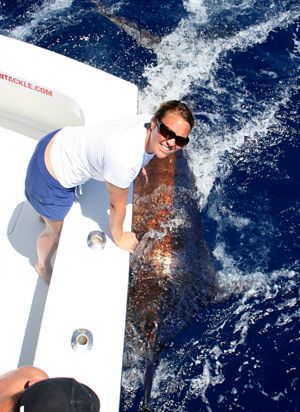 Jessica Kelmer with her 10th Blue Marlin of the season.
Today was a bit of a milestone on the Grander boat. Our second crew, Jessica, caught her tenth blue marlin of the season. We decided to fish to the west where most of action has been lately. After a couple hours of trolling and marking bait up and down the ledge I finally ran over a hungry fish that exploded on the
Large Polu Kai Tube
in the short left position. While clearing the other lines and Jess getting to the chair the fish popped up 50 yds away from the boat with a few lunges. No need to turn and chase at this point so the backing up began and the fight was on. We were on the fish in less than 3 minutes when we got the first grab on the leader. After another 2 minutes we had the fish alongside. Jess hopped out of the chair to throw the snooter on its bill, out came the hooks and off swam her tenth of the season. Not a big fish, maybe 300 lbs, but a fish none the less. Catching the fish in such short order and only having three of us onboard, all the pictures sucked and the video didn't get turned on, my fault this time. Would have made for some decent footage but we're hoping more is on the way.
We've been lucky in the sense that Tracy Melton wants us to fish as much as possible while we're here to keep the world informed of Madeira's health. This means that Jess gets the chance to be our angler fairly regularly and she's been catching. Her run started with a 300 lbr back in the beginning of June followed by 9 more up to this date with 7 of those fish being over 500 lbs. In Madeira's past there have been many lady anglers and many of their catches have been lost in the history books.
Jess Kelmer dukes it out with a Blue Marlin earlier in the season.
Women anglers deserve as much if not more credit for their accomplishments due to fact that heavy tackle isn't the easiest form of fishing. Heavy rods and reels along with heavy amounts of drag can be difficult for anyone to handle on a moving boat with a large marlin going nuts on the other end of the line. Jess has done a tremendous job hooking the fish and moving the rod to the chair on her own all by IGFA angling rules which makes her accomplishment even sweeter. On two different occasions she has caught 2 fish in a day. The first day involved a 550 and 650 pounder and the other a 700 and an 800. She's received her fair share of bruises and sore muscles but we think it shows a terrific amount of will and determination for her to continue wanting to catch, plus the fact that she loves it. I have a certain affinity for women anglers, one because Jess is my wife, and two the fact that they tend to listen to instruction and direction better than most male anglers. Jess has done a great job so far and I feel she will continue to do so. If everything lines up and we hook the one fish she's here to catch you may just see her name in the record books. We're not sure if Jess' accomplishment ranks anywhere near the top for women anglers in Madeira but we drank champagne anyway. We all wish her the best of luck. Way To Go Baby. Jonboy
An excited Jessica poses with her trusty rod and reel.