Tracy Melton and his father arrived at 1:30 this afternoon with hopes of getting an afternoon of fishing in on the first day. After collecting luggage and making the journey to the marina, we hopped onboard and headed offshore. There had been a few bites right out front of the marina so the game plan was to make a few passes and then try for the pargos.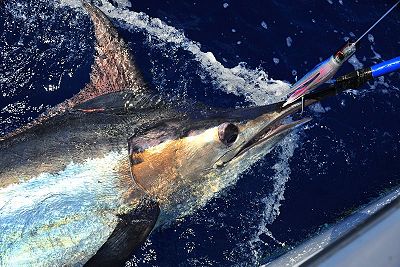 Estimated 550 - 600 lb. Blue Marlin alongside the Grander
Not quite an hour into the voyage Tracy Epstein got everyone's attention pointed toward the long rigger where there was a nice blue trying to eat the
Medium Polukai Tube
. After 3 tries she was able to pull the lure down and get stuck, and off the races we went. I turned and chased so melton could pick up the 600 yds the fish had ripped off. I wish the view from the cockpit was as good as mine as I watched the fish jump around on its side for about 30 consecutive times making an area of whitewater the size of 4 Grander boats. After getting most of the line back, we turned to back after her and were up and down for the next 15 minutes, gaining steadily. Epstein was able to get the leader and a couple switchbacks later the 550 lb blue was alongside on the snooter. Still lit up, we made a quick release after a couple pics with the bossman. So after an hour out we had already released the first blue of Melton's trip and decided to try the pargos.
Tracy Melton's Blue Marlin 'Snooted' and tagged prior to a successful release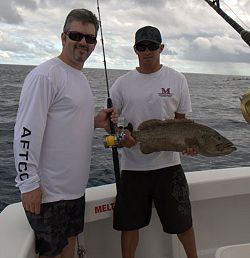 A nice grouper pulled up from the secret spot.
So we went to our secret spot to find the bait and there it was as we hoped. First drop we're 0 for 1, second drop we're 0 for 2, third drop we're 0 for 3. Finally on drop number four we hookup and hang onto one. Up to surface it comes and we have our first grouper of the season.  We didn't know there were groupers in our pargo hole but sure enough they're in there. So we had a great start to the trip and we're hoping for a few more good days to keep Melton happy for awhile. We'll see what happens.
Capt. Jonboy