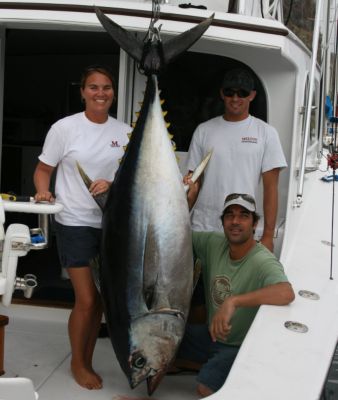 Jess Kelmer, Jonboy Kelmer and Melton Tackle friend Antony Haji pose with a 227 lb. Bigeye Tuna
Out of the harbor at 9:30, we started right out in front of the it due to the fact that there had been a several fish caught there in the past few days. Natural tendency makes you want to at least get the boat out at least a bit further before starting to fish but here it's usually unnecessary because you're passing over who knows how many fish.
We fished for about 4 hours before we raised a blue about 400 lbs on the right long rigger but only for a minute then he was gone. We were happy to see one but disappointed for no bite. We continued on after that and ended up marking alot of bait along the 100 fathom ledge and spent the rest of the time practicing M's and W's on the plotter.
Around 4 pm we started to see Shearwater starting to spin around like they knew something we didn't but we were in the right spot to see the bigeyes pop up nearby. I chose to turn left and 300 yds behind us up they popped in full force chasing the bait. I powered around and by the time i got back to the spot up they popped again, airing it out. These fish were anywhere from 150 to 300 lbs. I had a small bullet on the stinger that could not get a bite to save its life but the right long got piled on by a bigeye that ended up weighing 227 lbs. I couldn't believe that we only got one bite in the middle of that chaos but the one bite worked anywho.
The day ended with all smiles and some meat for the BBQ.
The crew lifts this nice Bigeye over the rail.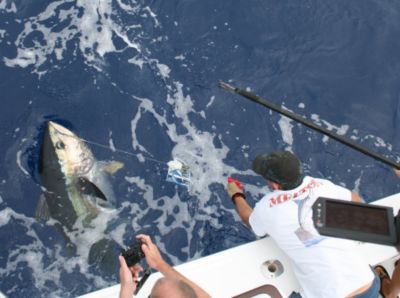 227 lb. Bigeye at the gaff.