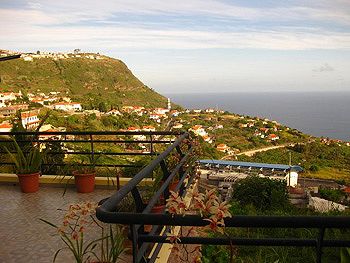 View from Madeira, Portugal living quarters
No fishing for us today, but our friends from Italy had a good early season trip by catching 1 blue around 800 lbs in 2 1/2 days of fishing. We're getting back on the water tomorrow to give it another go. It'll be just myself and my 2 crew so somebody (probably Jessica "Peaches" Kelmer) will get the chance to crank on a nice one, if all goes according to plan.
We've moved into a house up on the hill for the summer with a million dollar view. Plenty of space for BBQs and evening festivities.
In the last 4 days I've heard of 7 blues caught and another 6 or 7 seen. All of the fish have been over 500 lbs with biggest being 850.
Traffic jams don't exist with only 5 or 6 boats fishing and the flat seas leave little to complain about.
Hope to have caught one by the next time I write.
Good fishing to all!
Jonboy

A typical day on the water in Madeira