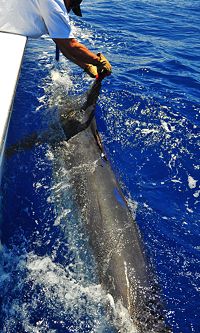 Estimated 700 lb. Madeiran Blue snooted and properly revived prior to successful release.
Finally woke up to nice weather this morning. We got an earlier start then the first couple days and ran up to the area where we'd been seeing most of our fish. We set out and trolled the point with a few other boats marking some bait here and there around the ledge waiting for our turn. We saw one boat hook a fish so we hung around them to shoot some pictures. It was a beautiful day but the fishing was a bit slow only one blue caught and the Chunda released a spearfish.
We trolled the point for a few more hours until we finally raised a nice fish on the short rigger
Polu Kai Instigator
. This is the same bait thats been producing consistently for the last month. The blue which looked 800 plus came in from the middle of the pattern and tried the lure three times before finally getting stuck. She ripped out a hundred yards of line in what seemed like a few seconds, than came flying out of the water in a series of spectacular jumps. Jonboy drove us ahead to get out of her way as Tracy wound the line tight. She stayed on the surface for the next ten minutes until the leader popped up. Got her settled down along the side for a few pictures then sent her on her way.
She wasn't as big as we had first thought but she was pushing that 700 plus range, none the less another nice fish.
Bon dia,
Tracy Epstein and the Melton Tackle Madeira Team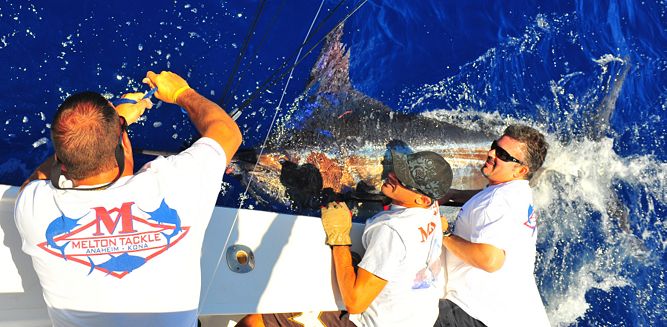 Jonboy Kelmer, Tracy Epstein and Tracy Melton prepare this Blue Marlin for release.