Gently bringing him in.
First fising report from Madeira and it looks like it's going to be good!
Eight Blue Marlin have been caught and released over the past three days from an average of five boats fishing each day. The fish were estimated to be between 600 to 800 pounds. Another dozen fish has been raised and some pulled hooks as well.
Pesca Grossa caught her first Blue Marlin of the season yesterday and that fish was estimated at 800 pounds. The seas were quite sloppy by Madeira standard, however, we stuck it out and ended up with a 5 pm strike on a good Madeira fish.
Things are coming together with lots of bait and good water temp!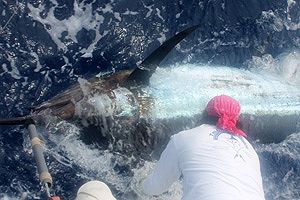 Getting a closer look.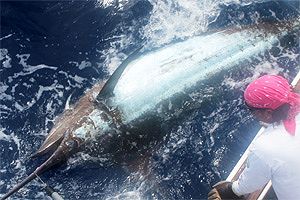 Letting him go.