Today was another pizza and blue experiment with a twist. I let Tracy take the wheel so I could be on the deck for a day. We rolled out around 1 pm to give an afternoon to try and get Jess' numbers up.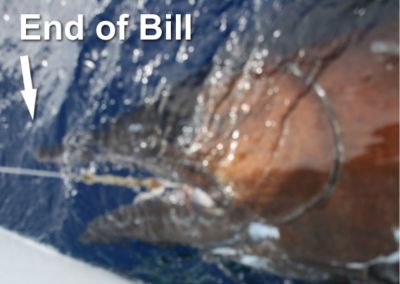 While not an 'Amsel Adams-esque' shot, the shortness of the bill is evident.
Heading out to the west end we found some uncomfortable seas but some bait as well. Tracy spent about 4 hrs working bait pile after bait pile in hopes of a bite. Around 5 o'clock, he started a tack back in the direction of the barn when he saw a few busts under the birds that looked like tunas. Upon arrival I looked back at the short left and there was a 500 lb. blue inhaling the
XL Polu Kai Instigator
. The fish didn't go anywhere and gave me time to get everything clear and after it Tracy went. Just then, the fish decided to start jumping all over the ocean and it was then we realized it didn't have a bill. I mean it had a bill but it didn't stretch but about 6 inches past the bottom jaw.
Jess had the fish to leader in short order and up the side I was able to get her without much trouble. The interesting thing was trying to put a snooter on her to dislodge the hook. The snooter was able to get hold of her nub and tracy came down to take the hook out and away she swam. A nice fish and a proven theory that you can wait for a pizza and still catch a 500 pounder before dinner time. Great job to Captain Epstein and to Jess for her 6th blue this season. Can't wait to see what happens next.