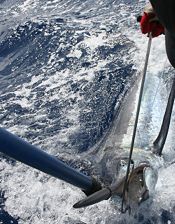 A nice average Madeira 500 lb. Blue boatside.
Left late today, around 1:00. Got a couple pizzas and headed out. It was Jess's turn in the chair today and she was looking to get one up on Melton's four blues he caught while he was here. A few fish were caught this morning so we were hoping for a late afternoon bite. As soon as we got down in front of Tabua, a blue climbed on the short
XL Polu Kai tube
. She pulled free and before anyone could hit the deck she was already all over the short
Marlin Magic XXL Ruckus
teaser.
Jonboy managed to get the teaser away from the blue as she disappeared in the white wash. Next thing we know she's trying to eat the teaser on the other side. This fish was all over us like a rash. After chasing that teaser all the way to the transom she made a U turn and climbed on the Long corner
Polu Kai Instigator
, finally getting herself stuck. Jess got the rod to the chair and Jonboy got us going in hot pursuit.
15 quick minutes and Jess had the estimated 500 pound blue to the boat. Took some pics and let her swim on her way. This blue puts Jess at five, one upping Melton for the time being.
A couple quick pics of the catch.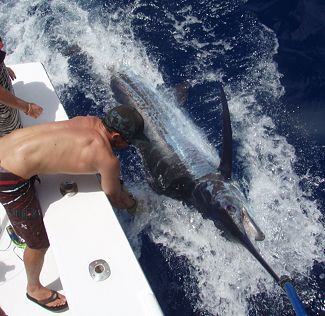 Hook removed and another successful release.