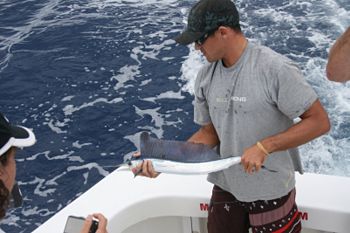 Tracy Epstein poses with perhaps the smallest longbill spearfish ever caught!
The fishing has been slow the last few days. We actually put out the small jigging rod in hopes of a spearfish and this time we actually caught one, it just happened to be the smallest long nose spearfish ever. We took a couple pictures and let it go, but that would be the only bite we would have.
Today we took the day off and went up into the mountains to hike around the levadas (manmade irrigation ditches). The weather was nice for the hike, kinda hot but when we reached the water fall the freezing water felt great.
Start fishing again tomorrow hopefully the blues will wake up and start biting.
Tracy Epstein