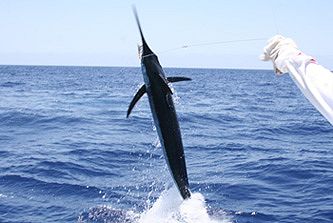 The 200 pounder jumps out of the water.
Looks like the fish are showing up in Gomera. Seven boats went fishing today and nine fish were seen! We were eating lunch, of course, when ours showed up.
The fish teased to the back of the boat as fast as we could wind, and for a second we had thought we lost him on the switch, but he was sitting there on the side of the boat waiting for me to put the bridge teaser back in the water.
With a quick re-placement of the bait, the 200 pounder came completely out of the water to eat the mackeral! Cute little fish, but an awesome show. There were a few fish, over 500 seen today, but we were happy to start the season on the right foot.
We'll be back out tomorrow, the action is too good!
Taking the bait and switch.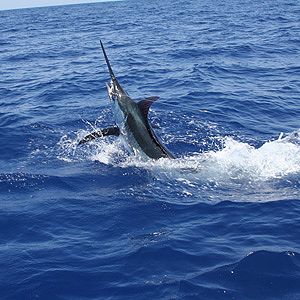 Easing him in.