All the lures that we chose to pull on board the Grander are our own personal preferences. There are so many good lure makers out there and most of them happen to come from Hawai'i, so when it comes to picking the right lures for blue marlin, I rely on past experience and personal use.
When we first started the season here in Madeira I had chosen to run
Polu Kai Lures
because thats what Kevin Nakamaru and I mostly run in Kona aboard the Northern Lights. I've never gotten a
Polu Kai Lure
that wouldn't run right. The lures have performed well for us in Hawai'i and so far they've been unstoppable in Madeira.
We're also running a few
Marlin Magic Lures
just to spice up the pattern once in awhile. The
XXL Marlin Magic Ruckus
that's been on the short teaser has had over 6 short bites since it's been in the water. That's saying a lot considering that lure is run only 20 feet away from the transom of the boat.
The lures I've chosen have stayed consistent, hence the reason there's really no room left in the spread for anything else. If the fish turn on to something else, then changes will be made but until then team
Polu Kai
is holding down first string.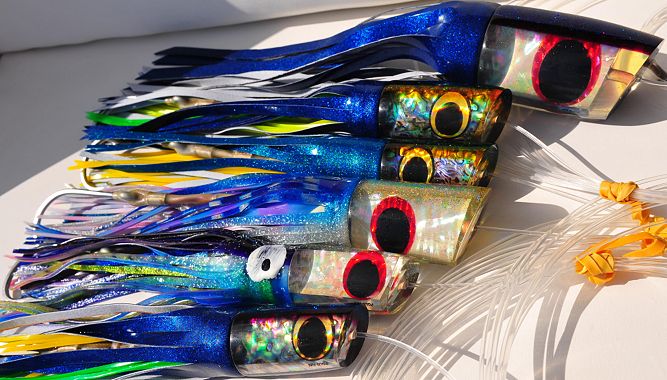 Some members of the 2009 Madeira All-Star Lineup (from top): Polu Kai Instigator Depth Charge (Purple), XL Instigator (Opelu), Large Tubulation (Opelu), XL Tubulation (Clear), Large Instigator (Clear), Large Instigator (Malolo)