Left the Calheta harbor and made a right turn. With the sun in our eyes, I could barely make out the dorsal of another hungry white marlin coming in on our
Polu Kai Rocket Man
. The fish made a few passes and Jonboy managed to get her hooked. We got all the lines clear and I had Jessica put her gloves on to take another go on the leader. The white put on a great show as we chased it all over the ocean. I snapped a ton of pictures of the photogenic fish as it jumped from one side of the transom to the other.
Jess grabbed the leader and the white immediately started jumping. She did a great job taking good wraps as I'd shown her. She got the 70lb white marlin settled down along the side.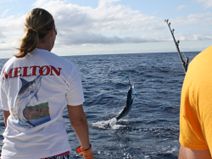 Jess anticipates wiring the white.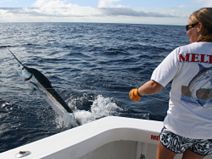 Fish on the leader.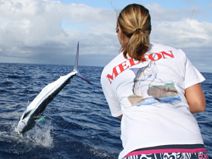 Nose dive.
We pulled the fish aboard for a few release pictures before sending it on it's way. A great way to start the day but unfortunately we wouldn't see another fish all day, guess there's always tomorrow.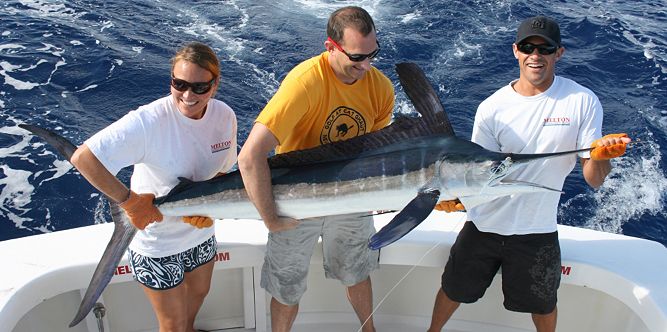 Nice Madeira white marlin, approximately 70 lb., released.