Here's a sneak peak of the products Shimano is set to unveil at ICAST 2012 in Orlando next month. For the 2011 ICAST, Shimano primarily introduced offerings to their freshwater arsenal. This year however, they are have focused on introducing more products for the saltwater market. Here are some of the highlights we think dedicated saltwater anglers will look forward to -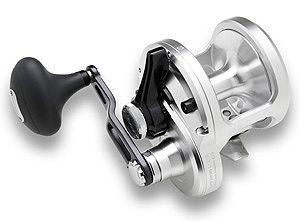 Shimano Talica 20BFC (Billfish Concept) Reel
Shimano Talica 20BFC (Billfish Concept) Reel
The Shimano Talica Billfish Reel a true billfish reel, a dream come true for tournament sailfish and white marlin anglers. Well suited to fish 20-30# mono, the Shimano Talica BFC Reel features a 6.7:1 gear ratio and 60" retrieve per crank, perfect for quickly winding line tight when fishing the kite. The Shimano Talica 20BFC features an exclusive drag curve, external detent for strike position and a long life clicker. As with all Talica series reels, the 20BFC features great castability and high efficiency gearing. A bit of a departure in mindset from previous Talica reels, this reel is made to fish mono and fish it very well. Retail price is $799.99 and will be available for pre-order after introduction at ICAST on 7/11/2012.
Shimano Calcutta D Series Baitcasting Reels
Shimano Calcutta D Reels were built with one goal - to be the ultimate precision round baitcasting reel on the market. This is a total revamp for the Calcutta series. Smaller and more compact than its predecessors, Shimano Calcutta D Reels feature extremely powerful XShip gearing and XDrag system.

Shimano Calcutta D Series Baitcast Reels - Shown: CT200D
Shimano Orca Topwater Jigs
These pencil poppers are extremely aerodynamic, allowing anglers to cast these baits very long distances. A proprietary internal weight positioning produces an erratic pop and dive action that draws savage strikes from gamefish. Available in 6 colors (Blue Sardine, Clear Silver, Green Mack, Black Silver, Purple Gold, Pink Silver) and 2 sizes (6.25, 7.5")

Shimano Orca Jig in Blue Sardine