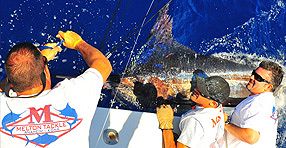 Looking to fish Madeira and chase monster Blue Marlin and Tuna in Paradise? Let Melton Tackle hook you up with some or Madeira's top crews and charterboats.
Melton Tackle has been fishing Madeira since 1993 and knows Madeira better than anyone. We can arrange complete packages including lodging, fishing and sightseeing adventures.
As you may have heard, Madeira offers some of the best fishing for monster class blue marlin, white marlin, longbill spearfish and bigeye tuna. Blue Marlin have been
averaging
500+ pounds for the past few seasons. In our opinion, Madeira is one of the top places if not the top place to chase big Blues.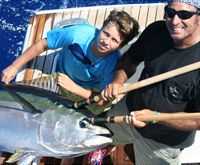 Captain, Gerard "Frothy" de Silva and his team have fished most of the world's best known big game areas including Australia, Barbados, Carriacou, Cabo Verde, Cuba, Hawaii, Mexico, Martinque, USA and Venezuela. They all agree that Madeira is the place they want to be during the summer months to target that monster fish of a lifetime! WORLD CUP WINNER 2015! Over $450,000 for Melton Tackle customer Anthony Johnson onboard the Pesca Grossa during the 4th of July World Cup Tournament!
2015 In The Bite Magazine Captain of the year for the largest Blue Marlin in the world (1,309lbs.) caught in Kona, HI. Captain Matt Bowman ran the Grander last season for the Melton Tackle in Madeira and had a very successful firt season at the helm. Matt has fished all over the world and brings his lure trolling knowledge from spending the last 10 years in Kona fishing with Legend Captain Kevin Nakamaru.
Not a rough water warrior? No problem! The water is glass calm and tranquil, not to mention that fishing starts just a few minutes outside the Madeiran harbors and marinas. Fishing usually starts at about 9 or 10 am and is extremely relaxing until the sudden scream of a Shimano Tiagra 130 reel having 500 yards of line taken off in a matter of a minute by an angry Blue Marlin.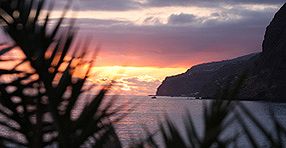 In addition to this, Madeira offers fantastic dining, sightseeing and activities for all members of the family.
To book your trip of a lifetime drop us an email via the form to the right or call 714-507-4177.