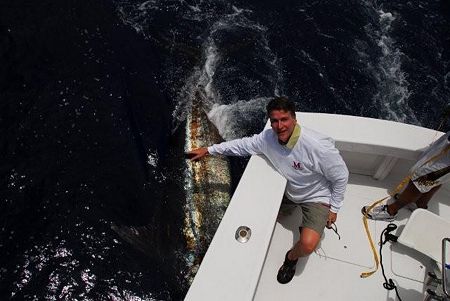 Notes
This fish was caught on a Polukai Large Instigator, Ian Miller Tournament 130 lb. Rod and Shimano Tiagra 130A reel spooled with 130 lb. Amilan Line.

A "grander" marlin is a huge milestone in a billfisherman's career and Mario may have hit it or came close in his very first attempt.
Mario's First Blue Marlin
Melton Tackle friend and customer Mario with a beautiful Madeiran Blue Marlin caught during July of 2008 aboard the Grander. This fish was successfully tagged and released to fight another day. This fish taped out at 950 pounds but many people feel that this fish was in fact a Grander. Not bad for his first ever blue marlin!
Gear Used