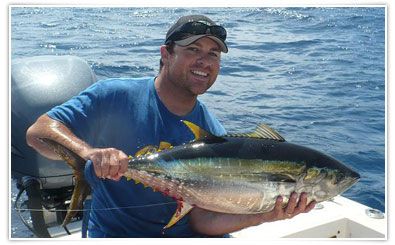 This is Jason's second stint with Melton International Tackle. He worked for Melton International Tackle during college for two and a half years, from 1999 to 2001. It was during this tenure that he helped establish the first true e-commerce presence for Melton Tackle. After 5 years working in e-commerce for a couple publicly traded companies in the technology sector, he found himself back home at Melton Tackle, heading up online marketing and web development initiatives. When he's not working as a computer geek, Jason can usually be found fishing on his center console out of Dana Point. Jason graduated from California University, Fullerton in 2001 with a Bachelor of Arts in Advertising/Communications.
The best thing about working at Melton Tackle: Selling products that I use out on the water and keeping in touch with customers around the world.
Favorite fish to catch: Yellowtail
Best catch: 70 lb. Dorado in Cabo San Lucas, Mexico
Favorite lure: Pro-Soft Scupper or Joe Yee Jetted Shell Cracker Jack
Boat: 21' Crystaliner Center Console "Ono"
Hobbies: Fishing, computers and spending time with family and friends
Favorite motto/saying: "It's not the size of the dog in the fight, it's the size of the fight in the dog"