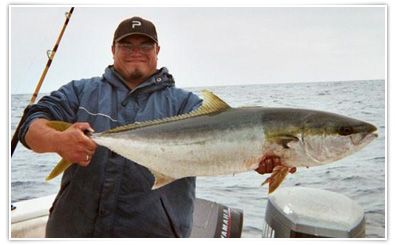 Mike Mileszko has been with Melton International Tackle since mid-2004, having started out his stint in the shipping department. He moved into his current sales position in mid 2007 due to his work ethic, attitude and vast experience fishing inshore, offshore and longe range. Mike is the "go-to guy" for spooling reels, specializing in mono to spectra connections. He even ties the turk's head knots for our cork tape jig stick rods.
The best thing about working at Melton Tackle: Talking fishing with people from around the world.
Favorite species to catch: Anything that swims!
Best catch: 55 lb. White Sea Bass on 15 pound and 40 lb. Yellowtail that ate a surface jig within eyesight!
Favorite lure: Salas 7x Light
Boat: 22' Cabo Cuddycon "Fishful Thinking"
Hobbies: Fishing, hunting, dirtbike riding
Favorite motto/saying: Hooook Uuuppp!!!!!!!