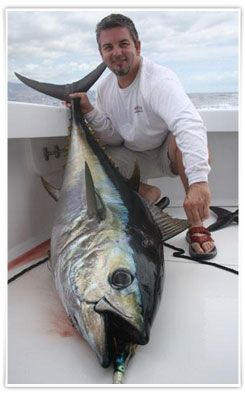 Tracy Melton is the founder and president of Melton International Tackle. Tracy founded Melton Tackle in 1993 upon graduating from University of Southern California, class of 1991 with a B.S. in Business. It was during his participation in the USC Entrepreneurship Program where he was assigned the task of "starting" a ficticious company. Combining his love for fishing with his keen business sense, the idea to start Melton International Tackle was born.
Fifteen years later, Tracy still has the energy of a young entrepreneur, taking a keen interest in every aspect of the business. Keeping the personal touch that put Melton Tackle on the map, Tracy still manages to find the time to assist retail and mail-order customers alike, no matter how big or small their tackle needs may be.
Over the years, Tracy has established himself as one of the more successful and recognized big game anglers out there. Specializing in stand-up angling, his accomplishments include the capture of the first "stand-up grander" marlin ever taken (1,083lb. Blue Marlin in Madeira Portugal in 1995), 3 Big Eye Tuna weighing over 250lb and 2 Yellowfin Tuna over 200 lb.
Tracy's tournament fishing record is impressive.
F

irst Place - 1991 Kona Gold Jackpot (506 lb. Blue - Kona, Hawaii)

First Place - 1992 Hawaii Light Tackle Challenge (Kona, Hawaii)

First Place - 1994 Firecracker Open (247 lb. Blue - Kona, Hawaii)

First Place - 1999 Los Cabos Billfish Tournament (645 lb. Blue, 1042 Total Points - Cabo San Lucas, Mexico)

Second Place - 1993 Lexus Black Marlin Classic (7 released Blacks - Cairns, Australia)

Second Place - 1998 Bisbee's Black and Blue (498 lb. Blue - Cabo San Lucas, Mexico)

Second Place - 2007 Los Cabos Billfish Tournament (400 lb. Blue - Cabo San Lucas, Mexico)

Third Place - 1996 World Cup Blue Marlin Championship (569 lb. Blue - Madeira, Portugal)

"Top Release Angler" 1996 Cabo Gold Cup (Cabo San Lucas, Mexico)

"Top Release Angler" 1998 Bisbee Alumni Challenge (Cabo San Lucas, Mexico)

"Top Release Angler" 2000 Bisbee Alumni Challenge (Cabo San Lucas, Mexico)