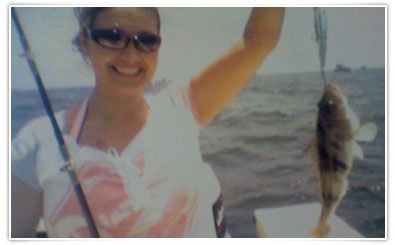 Yvette Misek has been a member of the Melton International Tackle team since late 2007 and has assumed the duty of Office Manager. In addition to managing the operations of the office, Yvette is also in charge of catalog production and advertising. Her exceptional organizational and communication skills have enabled Melton Tackle to release catalogs sooner than years past. Yvette's solid work ethic, commitment to excellence, thoroughness and "never give up" attitude has enabled Yvette to quickly earn the respect of vendors and peers alike. Yvette has fished the local SoCal are extensively and the waters of Kona, Hawaii as well.
The best part of working at Melton Tackle: Talking to all the customers from different parts of the world!
Favorite fish to catch: I don't have a favorite species but would love to catch a Marlin!
Best catch: 15 lb. California Halibut
Favorite lure: Marlinstar Tomahawk in "Hawaiian Pop Tart" color
Hobbies: Being on the sea & shopping of course!
Favorite motto/saying: "Say what you mean and mean what you say!"