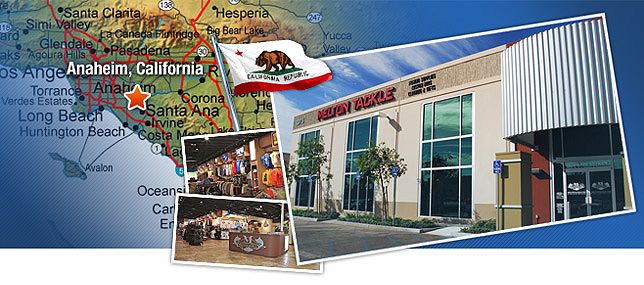 Melton International Tackle's Anaheim, CA location is ideally located on Anaheim's "Tile Mile" home improvement district. Located within minutes of Disneyland, Knott's Berry Farm, Honda Center and Angels Stadium, Melton Tackle is centrally located and draws in local customers, along with visitors from inside and outside the United States. Melton International Tackle is the closest tackle store to Disneyland and offers complimentary customer pickup/dropoff within the immediate area, along with tackle delivery for customers on the go. If you are interested in any of these services, please do not hesitate to email or call. We look forward to your visit!
1375 S. State College Blvd.
Anaheim, CA 92806
Regular Store Hours:
Monday - Friday: 10:00am - 6:00pm
Saturday: 10:00am - 4:00pm
Sunday: Closed
Phone: 714-956-9192 (Retail Showroom)
Phone: 714-978-9192 (Corporate Offices/Mailorder)
Fax: 714-978-9299
Toll Free: 1-800-372-3474
International Phone: 714-978-9192
International Fax: 714-978-9299.
Email: info@meltontackle.com
View Larger Map